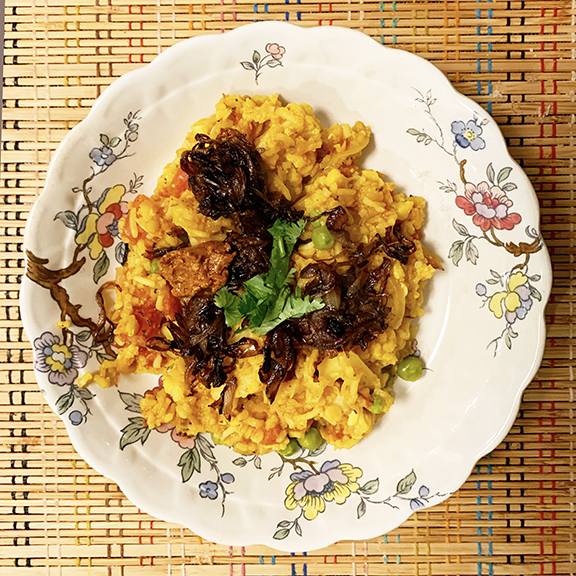 Looking for a stick to the ribs, vegetarian meal for a cold winter night? Like Indian food? Well this is the recipe for you (derived from "Vegan Richa's Indian Kitchen", by Richa Hingle). It is a very adaptable one pot meal, so add or subtract whatever vegetables you like…
Ingredients:
2 tsp. neutral oil (e.g., safflower, sunflower, canola)
2 bay leaves
4 whole cloves
½ c. thinly sliced red onion
2 cloves garlic, minced
1/2" knob of fresh ginger root, minced
15 oz. can, diced tomatoes (fire roasted if available)
½ tsp. turmeric
½ tsp. ground cumin (if you have time and a spice grinder, roast whole cumin seed and then grind it to a powder)
½ tsp. Garam Masala (Indian spice mix available at Indian groceries or food coops)
¼ – ½ tsp. cayenne
1 ½ c. small cauliflower florets (could also use broccoli, kale etc.)
¾ tsp. salt
½ cup red lentils, washed and soaked for 15 mins., drained
½ c. basmati rice, washed and soaked for 15 mins. drained
¾ c. water
½ c. frozen peas (optional, cut up fresh green beans are also nice but may need to cook a little longer)
2 Tbs. copped, fresh cilantro (for garnish)
½ Tbs. lemon juice, for garnish
2- 4 Tbs. caramelized onions, for garnish (optional, but yummy)
Procedure:
Heat oil in saucepan. When the oil is hot turn heat to medium and add bay leaves, cloves and cook 30 seconds. Add the onion and cook, stirring, until translucent, about 5 mins.
Add the garlic and ginger and mix well. Add the tomatoes, turmeric, cumin, garam masala, and cayenne. Mix well and cook over medium heat until tomatoes are saucy, about 5 mins.
Add the cauliflower, salt and mix well. Add the lentils and rice, mix well, and cook for 1 minute.
Add the water. Mix, cover, and cook for 10 mins. Add the peas, stir, reduce heat to low-medium. Cover and cook until the lentils and rice are cooked, and all the liquid is absorbed, about 6-8 minutes. Let sit for about 5 mins. Serve garnished with cilantro, lemon juice, and caramelized onions if using. Store bought Indian Coriander chutney is also a nice addition.