Haynes has been experimenting with new recipes, cooking specially for our daughter during her pregnancy and found this cold beet soup in a Ukrainian cookbook, "Mamushka" by Olla Hercules. We love borscht and thought this was an interesting variation that is refreshing in the summer, so nutritious and looks pretty. It calls for brining the beets in advance which just starts the lacto-fermentation process without pickling the beets, while slightly changing their flavor. Try it.
This first course recipe is below. Second course recipe here.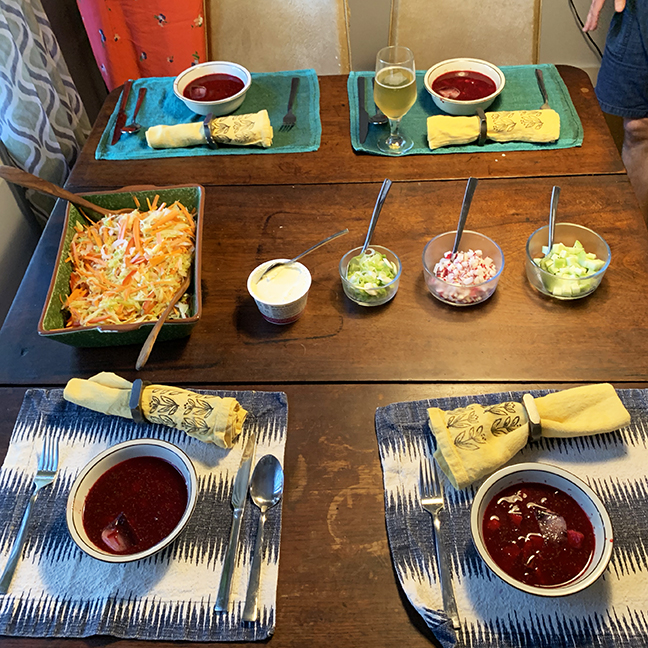 The second course is here:
Serves 6
Borscht(ish):
1lb. red beets, peeled and halved
1 1/2 quarts water
1 ½ TBS fine sea salt
½ TBS sugar, light honey
1 quart chicken or vegetable stock
freshly ground black pepper
1 smooth skin yellow skin potato (e.g., Yukon Gold) peeled and diced
2-3 TBS prepared horseradish (to taste)
Garnish:
4 oz. radishes, finely chopped
½ cucumber, diced
4 scallions, finely sliced
1 TBS chopped dill (fresh is nice)
Procedure:
1. Put beets in a non-reactive bowl or a jar, cover with water, add the sea salt and the sugar or
honey. Leave covered at room temperature in your kitchen for at least 2 days to brine lightly.
2. Drain the beets, reserving the brine. Cut the beets into slices, then ¼" dice.
3. Combine the beets, stock and 1 ¼ cup of the reserved brine in a saucepan. Season with salt and
pepper and bring to a boil.
4. Add the potato and simmer until cooked through, about 15 mins. Let the soup cool, then cover
and chill in the refrigerator.
5. Add the horseradish just before serving. Serve the soup chilled with sour cream or crème fresh.
Sprinkle each bowl of soup with the garnishes.