For the main course, after the refreshing beet soup course, Haynes made these delicious steamed dumplings also adapted from the Ukrainian cookbook "Mamushka" by Olla Hercules. These dumplings have an Asian and Mongol heritage and are traditionally made with ground pork filling. Haynes made them instead with some left-over smoked pork belly that he mixed with minced shallots. The dumplings are fun to make but be sure to roll them as thin as possible. You might also try using ready-made dumpling skins that can be found in some Asian specialty stores, often called gyosa skins. Below is a description of how to form the dumplings, but if you have ever made tortellini that technique would also work. The garnish is classic Italian, fried sage leaves in butter. The dumplings were accompanied by a simple cabbage and carrot salad with lemon and dill dressing.
First course recipe here. This second course recipe is below.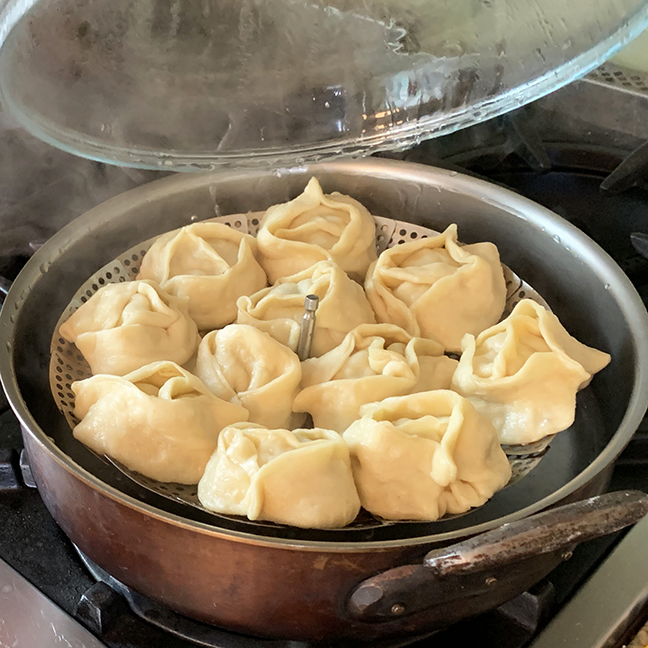 Serves 4-6 (about 20 dumplings)
Main Ingredients:
8 oz. ground pork (not too lean)
2 shallots, finely diced
fine sea salt
1 recipe dumpling dough, pre-made skins
safflower or canola oil for oiling
freshly ground black pepper
Dumpling Dough:
1 large egg, lightly beaten
2/3 cup water
2 2/3 – 3 cups all-purpose flour, plus extra for dusting
fine sea salt
Garnish:
butter (1/4 cup)
4-5 fresh sage leaves
Procedure:
1. In a bowl thoroughly mix the ground pork with shallots and season well with salt
2. To make the dumpling dough mix the egg and water together in a bowl, then gradually add the flour and mix in well. Knead the dough on a well-floured surface until it stops sticking to your hands. Wrap the dough in plastic wrap and let it rest in the refrigerator for 30 minutes.
3. When the dough has rested, divide the dumpling dough into 2 pieces and roll each piece into a sausage shape. Cut each sausage into 10 pieces.
4. Roll each piece into a rough 5-inch rough square. Place 1 TBS of the meat mixture in the center of each square. Pull up 2 edges of the square and press them firmly covering the meat (brush dough with a small amount of water if you need help with the edges adhering). Do the same with the other 2 edges, creating an "X" shape, completely sealing the meat filling. Now join the ears of the "X" by pulling them together and pressing them into a little hat (see pictures).
5. Lightly oil an Asian bamboo steamer or stainless vegetable steamer and place the dumplings in the steamer. Steam them until the filling inside is cooked, about 45 minutes.
6. Melt the butter in a small fry pan and when melted add the sage leaves stirring and frying for several minutes until the sage is aromatic and stiff, but not so long that the butter starts to burn.
7. Serve the steamed dumplings with the sage butter, including the leaves, spooned over them with plenty of pepper (see photo).