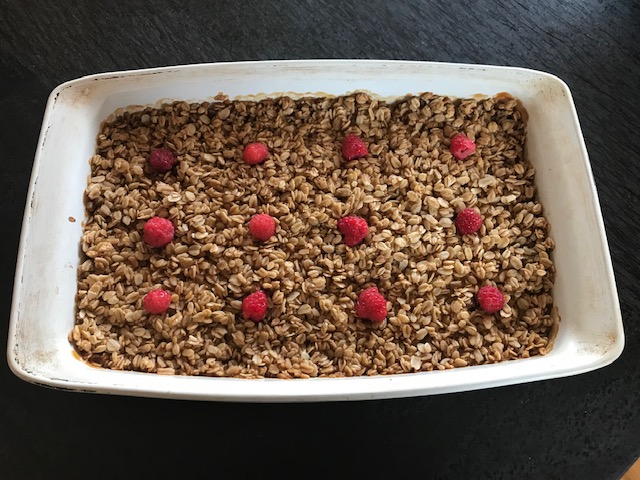 Emma and Ed grow much of their own food and enjoy it year round by canning and freezing. This crisp is one of Emma's favorites. She uses their homegrown raspberries and peaches. This recipe is her own creation.

Grease a baking dish with butter or oil
Cover the bottom of the dish with an inch or two of any of the following fresh or frozen and somewhat defrosted fruits:
Rhubarb and or strawberries sliced
Cherries pitted
Raspberries and/or blackberries
Peaches sliced
Blueberries
Cranberries and/or apples sliced
Pears and/or plums pitted and sliced
Mix oats and brown sugar and a few tablespoons of vegetable oil or melted butter. Make enough topping to cover the fruit with a layer about 1/2 inch thick. Use some lemon juice if the fuit is too sweet or to keep it from turning brown.
Bake in oven about 350degrees until fruit is soft and topping is slightly browned about 20 minutes or more for firmer fruit like apples and rhubarb.
Enjoy hot or cold.