Saturday, October 12
3PM Visit or Walk/Hike and Conversation
5PM Potluck
6:30PM Bonfire
Visit Stowe Farm Community and treat yourself to a foliage feast on Saturday, October 12. Come at 3PM for a walk, tour of Stowe Farm, and come with questions about cohousing, sharing stuff, and living in community.
Bring a drink or dish to share and stay for our potluck at 5PM.
After dinner we'll walk up to the Fire Pit for a bonfire at 6:30PM.

If you know that you're coming, please let us know Coming on Oct 12
It's a beautiful scenic drive, but you might want to see Directions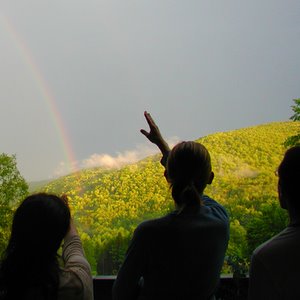 The Colrain hills are showing off their beautiful fall colors for tomorrow, October 12th!